How time flies...its already December and we're approaching 2008 in a month! Some updates here...



On Sunday, Dec 2nd hubby is having fishing competition among the Perodua staff at Tasik Puteri, Rawang. Sooo...semangat!! Woke up very early (6 am & hes the 1st person to arrived there!). Has been preparing the equipments and the 'recipes' since last week. We (me, dotter and my sis) went there at 11 am to blow some magic words as he told me via phone that he had catch nothing! Hahahaha :)) Aiyakkk...very hot there...but all the "fisherman" and their die-hard-fan supporters (hehehe..) waited steadily under the melting sun! Sorry dear...I can support you on your futsal or football tournament. But not this one..hahaha..so panas lah! We left at 12 something before the tournament finish. Heres some photos...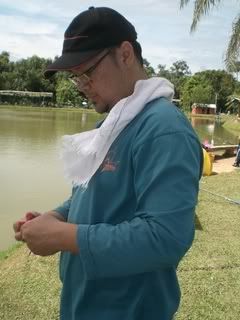 Carefully fixing the umpan. Pray for a BIG catch! hehe...
The man on action!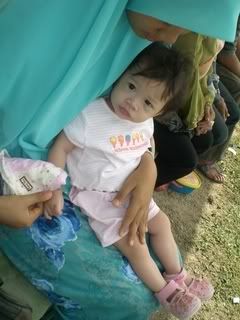 The not-so-loyal supporter with her untie. hehe..Looking bored...
Mama, time's up!! Lets go home. Babah is wasting our time!! hehe....
1) Started my Duoromine diet on Monday (Dec 3rd). On 3rd day now... so far everythings okay and my body seems to adapt well with the DRUG (oh! cant believe this...Im soo desperate to lose weight). Havent experienced any weird effect til today. Well maybe a lil bit dizziness and dehydrated. Need to drinks more.

Cooked this a few weeks back. I think from now on..this will be my main menu...
2) I've submitted my resume for the Pegawai PID post. Suggested (and reccomended :)) by Zell. Thanks again fren. Really appreciate your kindness and I do hope to get that job! But it may be a bit tough for me..as there's another candidate who was also aiming for this post for ages! Hopefully it will only be a 1 to 1 competition for both of us! hehe....thanks again zell.

3) This week and next week I will be very busy managing the hantaran for my bro whos getting married in 2 weeks! Hes in Singapore (working there..) and im the only person that he can count on...okay, im his big sis so..of cos I have to help him and furthermore im not working! We (me and my sis Anor) were just got back from Klang-preparing the hantaran at my untie's house. Our fingers hurts...twisting the wire, cutting the flowers stick, arranging, discussing..bla..bla..bla....Luckily Anor was here and she help me a lot! Thanks sis, you r the best!! Leaving my dotter with her granny, I missed her a lot! Sorry sayang..mama cant bring you along....otherwise, we both will end up doing nothing but PLAY at Tok Cuyah's house. Haha...



4) Its December and there are SALES everywhere!! And tomorrow is KIKO and MATTEL warehouse sales. Shop till I drop??? Uhu....