Selasa baruni, mujur tak ujan. But mendung. I've cooked spagetti and fries. Hb bought some junkies. Arrived there at abt 11 something. Weather was okay, gloomy and the water...alamak! mcm teh tarik tak cukup susu. hehe...keruh sikit. Carik pot, bentang tikar..makan!!
Yeay! Finally I got chance to wear my swimsuit!
Ni masa baru sampai. mkn dulu...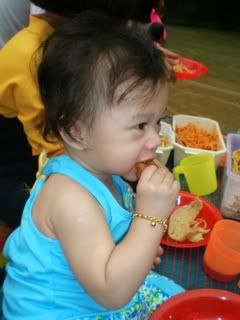 Aisyah kunyah nugget like forever! haha...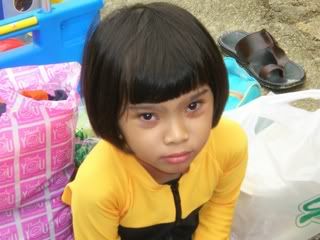 Along (Anak Azmi)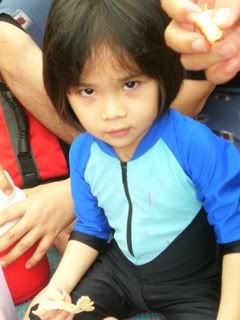 Angah (Anak Azmi)
Sweet Solehah (Anak Fauzi)
Oh ya..yg dtg 3 family jer, and im the only mommy. Other mommies either keje or have to take care of sick babies. BTW, that tuesday, Selangor jer yg cuti (due to hari keputeraan sultan). Hb said, the original plan nk pegi FRIM but ramai yg bangkang kater saner tak best. So, they changed plan hoping that the rest will join. Wallawey..tipu jer! seme ngelat. Bwk ank gi kinik lah, ank tak sihatlah, ader hal lah... hehehe..anyway, we have fun there!
Aisyah excited giler jumpa air. Padehal air sungai tu punyalah sejuk!
Aisyah tak leh jalan lagi...main cepuk2 air dlm pool jer...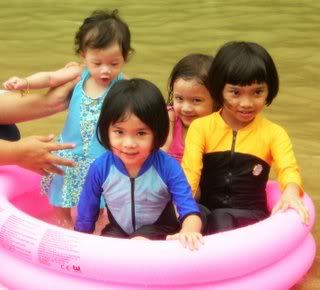 All 4 of them. So sweet!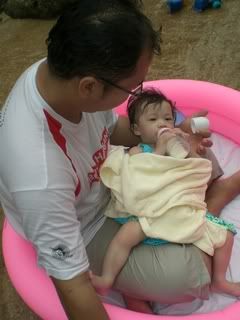 Sweet moment of fatherhood...



Tgh syok2 mandi...hujan turun rintik2. So, we all kelam kabut pack everything. Hehe...okayla..at least dpt mandi abt 1/2 hour. So, cepat2 salinkan baju anak2, then makan for 2nd round. hehe..


So hungry...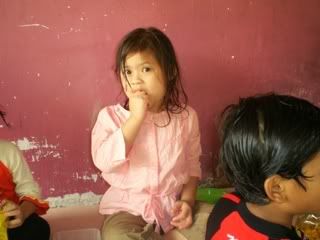 Aiyak..im not ready yet!! hehe..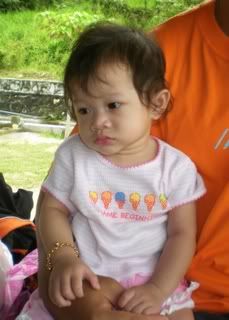 Tired looking Aisyah while waiting for her milk. Looking envious at her sisters who's enjoying the food again!


Sampai jer rumah, 3 of us terus flat!! Hahaha....
Anyway, thanks dear for this exciting trip (walaupon kantoi separuh jalan sbb hujan. hehe)