Harini best!! Paling best...dpt call dr Putrajaya. I got that job. Tambah best..start keje esok! Maknanya, hujung bulan 1 ni I dpt GAJI. Yeayyy! What a wonderful new year kan...
2nd thing yg best..shopping! Ni kira last minute shopping lah kan. I went to 1 Utama alone. Heheh..ni kira sessi balas dendam kat hb. Last Saturday kan dia pi mancing sehari suntuk..so, my turn la plak... Masa nk pegi hb sempat pesan.."Beli la something for yourself..nnt abg bayar balik" Hehe..nk pujuk ler tu.

But, as usual...I have no interest to shop for myself. Im addicted to Aisyah lah! I end up buying nothing for myself (serious nothing!). Ada jugak tengok2 shirt and blouse..but they are all toooo small for me! So, malas lah nk beli baju ke apa ker. Dan hasilnya....nilah brg2 Aisyah. You are so lucky dear... Masa mama kecik2 dulu..tak merasa taww mender2 mcm ni...



Masuk jer Parkson, terus nampak kasut ni. Chomell kan?? terus beli. Murah ja..rm19.90. Kalo rega asal 45.90. Kompom aku tak beli. hehe....
Padehal..kasut Aisyah punya la byk dah...kebanyakannya tak leh pakai lagi. Dua ni jer yg boleh pakai. Takpalah..simpan dulu. Nanti dh besar..boleh pakai. (Alasan yg paling munasabah kan?? hehe..)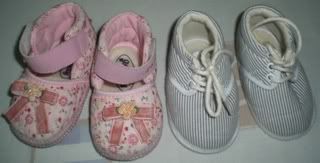 Yg ni plak koleksi kasut yg tatau bila baru leh pakai! Hehe..semuanya murah2..beli kat warehouse sale. rm10 jer sepasang!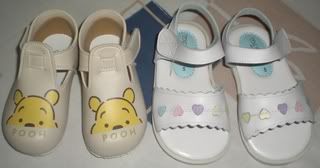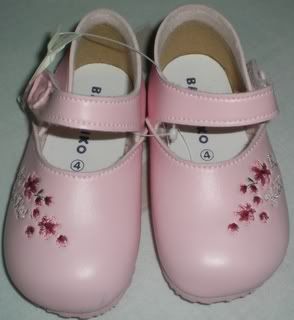 Dah lama ngidam nk beli legging ni. Baru kalini jumpa yg muat untuk her size. rm15.90 less 20%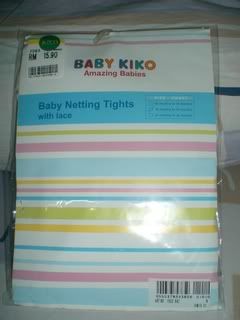 And finally tercapai gak hasrat nk beli long pants utk Aisyah. Dah beli pants, terbeli plak T-shirts nya sekali. Red shirt rm13.90 from RS, green shirt rm9.90 from FOS, pants (left and right-takde brand.hehe) rm7.90 for 2 pcs from Giant and seluar belang2 tu rm45 (disc 10%) from sesame beginning.



Pastu terjumpa pulak seluar ni. Suka tgok corak dia. Tapi takde saiz kecik. Paling kecik utk 3-4 years. Again..tak salahkan beli now and keep till Aisyah muat pakai. Hehe...rm6.90 jer sehelai!

Hayo...seluar nilah yg paling mahal. Jenuh ronda satu Jusco, tak jumpa seluar yg sesuai. Jumpa yg ni jer. Sesame Beginning. Mahalnya...rm45 less 10% jer. Ni lah baju paling mahal I ever bought for Aisyah. Seluar plak tu. Tapi sbb dah bekenan...rembat jerlah!

Pastu masa dh nk balik, singgah Giant jap. Terjumpa long pants yg mcm dlm gamba kt atas tu. rm7.99 for 2 pcs! Alahai....ruginya...as I dont really need the sesame pants kalo dh awal2 jumpa seluar ni dulu. Luckily both of that pants matched dgn T-shirt hijau and merah tu. other stuff I bought was Baby food, huggies pants, my KOTEX, botol susu and bedak johnson. Berapa ratus yer habis... tak la byk sgt kalau nk compare dgn org lain. Tapi kan..nyaris2 nk rabak taww sbb tengok pumpkin patch sale 50%! baju cantik2 nya!

So, enaugh shopping...at least sampai mama dpt gaji ujung bulan ni. Yeayy!