.
Kalau ikut jadual, lagi 6 minggu akan melahirkan adik Aisyah.


Apalah nasib saya kali ini agaknya. Aisyah dulu overdue, dok berpusing2 takmau turun kepala ke bawah. Yang ni nampak gaya memang dah masuk ambik tiket 'highway' tinggal nk 'exit' jer lagi. Berdebar-debar rasa di hati! [macam lirik lagu pulak, tapi lupa tajuk lagu tersebut]
Esok ada check-up kat PMC. Patutnya last week, ngelatttt. Terlampau senang hati berehat-rehat di rumah sampai malas nk kuar pegi check-up. Tapi esok memang wajib pegi.
Eh, dah kena siapkan baby bag letak dlm keter ke ekk? Just in case...
[aiyoo.. jgn beranak kat Sepital KKB sudah lorrr...]
Eh, kata nk ber 'cloth diapering', CD dan insert haritu tak prewash pon lagi!
Apa kes ni Makcik Rehan?
Jamu [ubat] nk makan masa pantang pon belum beli. Nak beli brand apa ekk? Rasa mcm nk try HPA [Mak sure bangga kalau tau ni. Sebab dia adalah penyokong tegar HPA]. Kalau tak HPA pon, maybe Nona Roguy kot [tapi khabarnya mahal la pulokkk]
Bengkung tali berselirat tu [hazab giler nak pakai, sbb tu i jarang pakai masa Mencah dulu. hehehe] mak dh bawakan dari kampung. Tapi besi tungku belum ambik kat kampung [tak sampai hati suh mak bawak naik ketapi haritu].
Air Yassin ayah dah buatkan 2 botol.
Air selusuh pon ayah dah buatkan. [harap kalini i tak kena maki dgn misi sebab bawak air selusuh masuk wad bersalin]
Air zam-zam pon Nenek Onah dah simpankan [Abg ipar bawak balik dari umrah haritu]
Ayah kata, nanti kalau baby kena jaundice [demam kuning - nauzubillah] ayah akan buatkan air jugak. Ayah bukanlah bomoh keliwon, buat air penawar sedikit-sebanyak tu pandai jugaklah sesikit. Hasil pergaulan dengan ustaz2 kat kampung kan... kutip ilmu serba sedikit [tetiba entry ni ala2 mempromote bapak sendiri pulak]
Mak bidan dah ada 3 options :
1. Mak sedara Ani si Ibu Yasmin [panggil Mak Tua ekk Ani?]
2. Makcik Normah Batu Arang
3. Bonda Selayang [yg ni SIL biasa guna khidmat dia]
Kalau beranak time raya, masalah paling utama adalah :
SAPA NAK JAGA MR?
At least masa 2 minggu yang pertama. Lepastu InsyaAllah i'll be able to take care of myself. Sampai skang i belum jumpa bibik 2 bulan. Mak kata dia takmau raya kat KL, dia suh i yg balik beranak kat kampung. Yang lucunya, mak ayah i kata, sejak duduk umah sendiri, MR dah tak nak balik kampung. Itu adalah sangat
TIDAK BENAR
wahai ayah dan ibuku. Tempat jatuh lagikan dikenang, inikan pula tempat diberanakkan. [dan perenggan ini pulak berbunyi seperti luahan hati seorang anak yang telah dgn tidak sengaja membuatkan mak pak dia merajuk sbb dia dah lama tak balik kampung]
Kami jarang balik kampung sekarangni sebab Mak dan Ayah dah selalu dtg KL. Dalam sebulan dua ni rasanya dah 3,4 kali ayah dan mak dtg KL kan? Mula2 turun-naik Sabah, lepas tu adik masuk UKM, lepastu kenduri Mat Pijun dan akan dtg sekali lagi mai KL sbb Mat pijun nk fly pegi Egypt. [apa motif i tulis benda2 ni semua?]
Anyway, i sudahpon apply cuti 2 hari... kami akan berbuka puasa 1st day di Parit Buntaq! Yeehaaa.... Pagi tadi masa ayah talipon, bila bagitau kata kami nak balik puasa kat kampung, suara dia adalah tersgt happy! [tiba2 rasa mcm nak mengalir air mata pula]
Saya bukan tidak mahu berpantang di kampung, saya sebenarnya mahu berada dekat dgn suami saya [agak manja disitu kan, sila muntah belahak] Saya mahu perbetulkan kesilapan teknikal masa berpantangkan Aisyah dulu. Malu la nk tulis kat sini, apa kesalahan teknikal saya dulu. Takut hangat2 taik burung lelayang pulak jadinya. keh keh keh.... Kita tunggu dan lihat sahajalah yaa...
Mari kita mengenang kembali memori bersama Aisyah dolu-dolu [sila berasa syahdu]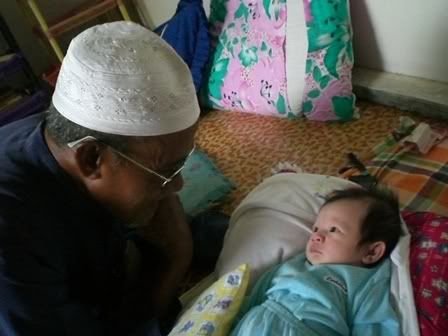 Aisyah dan Tok Ayah.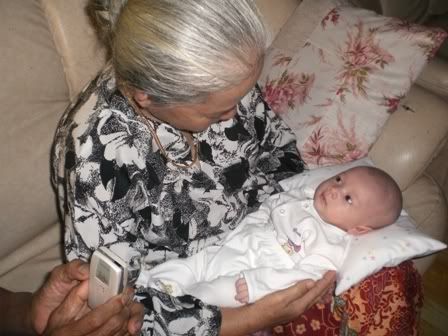 Aisyah dan Maktok.
Aisyah dan Babah.
Sekian entry berbaur sentimental untuk hari ini.
Selamat berhujung minggu ya!
Psssstttt...
SitiSifir
, adakah benar apa yang kusangkakan???
Apekah? Apekah sudah nak masuk 5?