Yeay!! mama cuti harini. Kononnya sbb nk pegi setelkan surat sumpah keje kat Mahkamah Selayang. Yerlah..ingatkan lama. Rupa2 nya, 10 minit dah siap! So, whole day Aisyah lepak dgn mama. Pagi2 masa mama nk pegi Court, Aisyah tgh belayar dlm buai. Hehe..kalo tidak, mesti dia nangis nk ikut mama. Skang dh pandai taww..kalau mama pakai tudung, pakai seluar...maknanya mama nk pi jenjalan. Kalo nk pegi kerja pagi2 pakai baju kurung dier tak heran pon...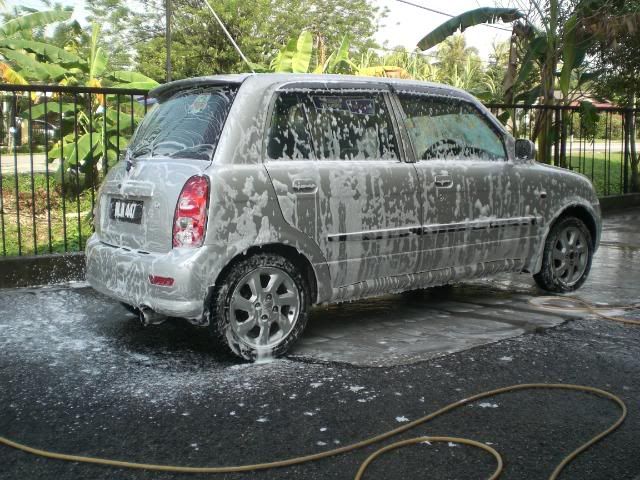 Balik dr Mahkamah mama singgah cuci kereta. Berabuk sgt dh keter tu...
Balik je umah tgok Aisyah dah siap mandi. Dah mkn ubat demam. Aisyah kena selsema.... So, I've decided to pegi klinik dan ambik ubat selsema utk Aisyah. Nenek dier selamber jer bagi ubat demam yg lama (but still elok) Sabor her la...Masa timbang kat klinik, tgok berat dier dh naik sikit. Okaylah tu..takder lah champion sgt mcm Mama dgn Babah. Hehe.. She weigh 7.2kg now. Yehaaa...mkn byk sikit yer nak...
So, the rest of the morning spend time with Aisyah....
Ewahh...mcm tau2 mama nk snap gamba ekk. Dah ready nampak??...
"Mama pls dont disturb me okkay..I want to study for my exam..."
"See mama....Im holding my book. Pls leave me alone now. I need to concentrate..."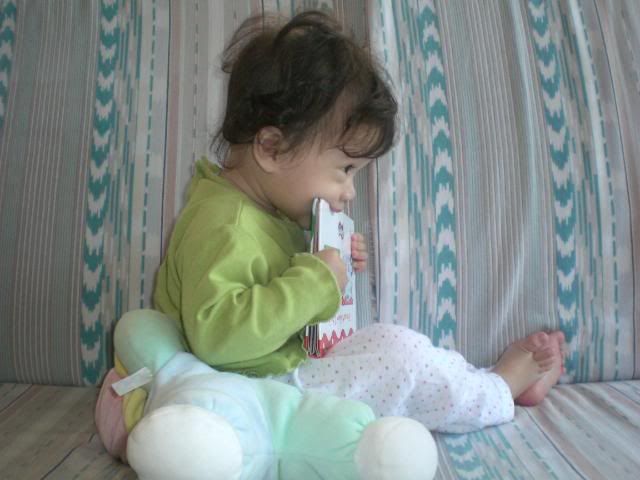 "Hurrrmmmm...yummy! Mama..pls buy new book for me. This one taste sooo sedap! make sure mama beli yg laaagi sedap okkay..."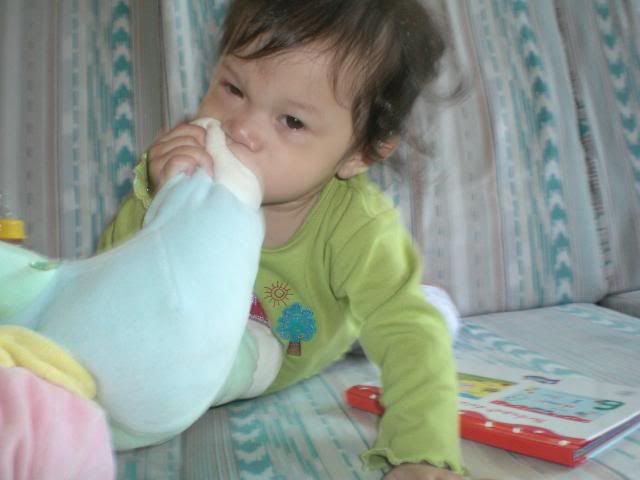 "Baby Jack ni kacaulah! Aisyah nk study lah..."
Note : Baby Jack is a soft toy - mama dpt hadiah from office colleague
"Enough study...jom intai beg mama...."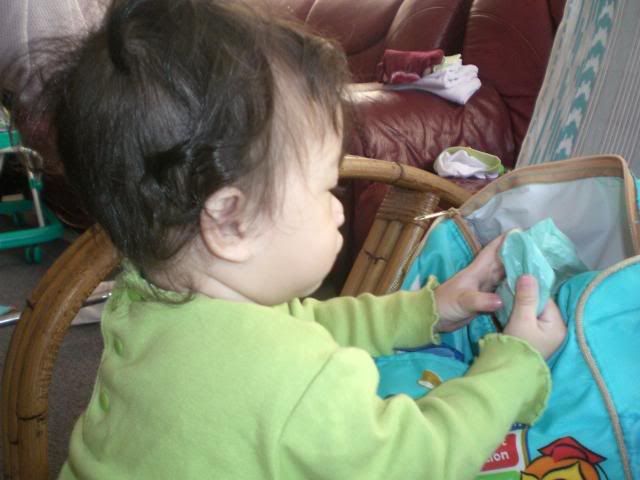 "Uhh..takder apa yg best pon! Ingat kan ader icecream ker...."
"Mama..Im done with your bag! Nak pegi kacau nenek pulak..."
Tengahari nyer pulak, babah buat surprise. Call dr office ajak lunch pizza. So, bergegas la mama dgn Aisyah siap2 apa yg patut. Paling penting bawak sippy cup Dgn Baby Bites Aisyah. Kesian pulak nnt dia tgok jer mama dgn babah makan...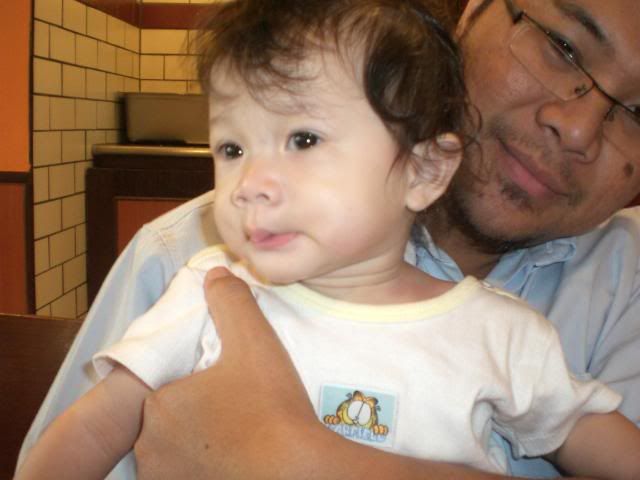 Buah hati Babah. Tgok mulut dia tu. Tataw la ini budak mana dia belajar buat itu macam! Mulut fish! We all (me and in laws) blame hubby sebab suka sgt pegi mancing. Tu sbb Aisyah byk peel ala2 ikan..hehe. Masa dia baby dia suka menyentap (mcm ikan mkn umpan kat pancing) bila kita suap botol susu or puting kat dier.. Hahaha....
Thanks abg for the lunch!! Mmuahh..luv you!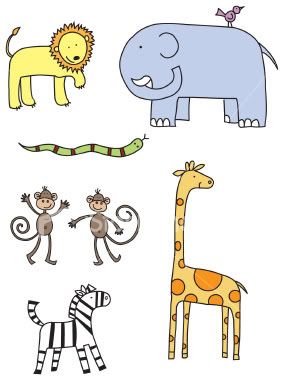 And...petang tu mama mandikan Aisyah. Sukanyer...main air!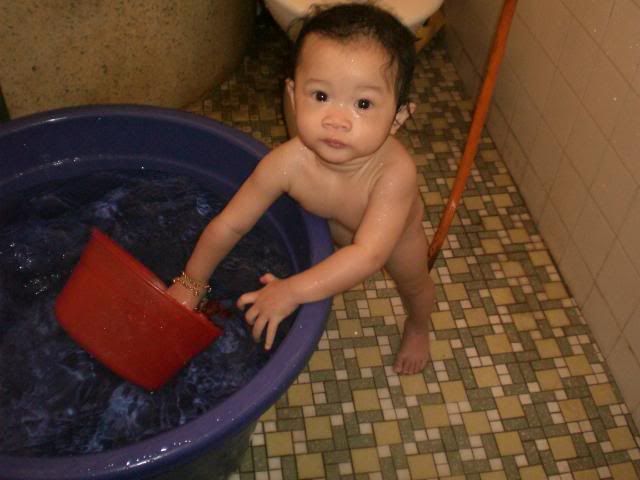 Awww...sensored lah mama!
Syoknya mandi..sampai nampak gigi!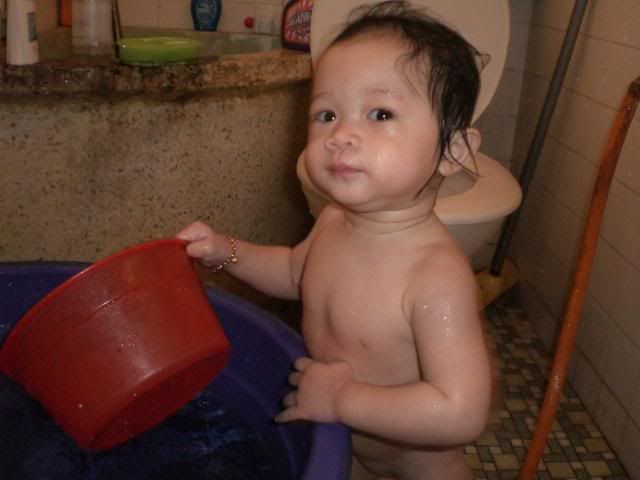 Dah la tu ekk....nanti lagi selsema mandi lama2...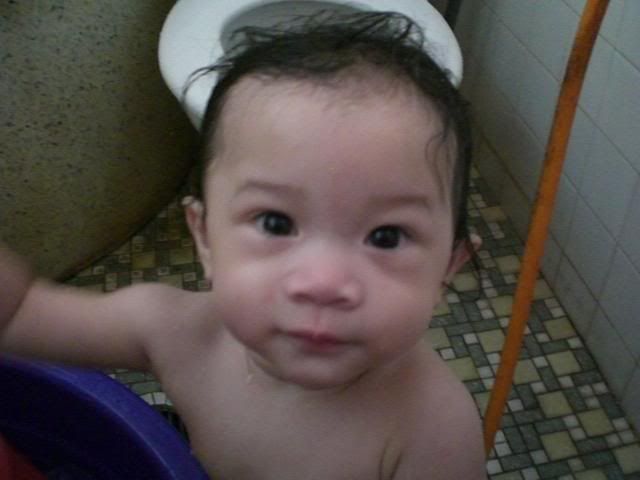 OK Im done!
Lepas mandi, pakai baju..mula la aktiviti Dora the Explorer dia. Sejurus lepas gambar ni ditangkap, Aisyah jatuh terlentang! Menangis kejap..hehe. Sorry sayang. Mama too busy nk snap gamba. Tak sempat nk grab kerusi tu...